Cameroon, or More Adventures in Miscommunication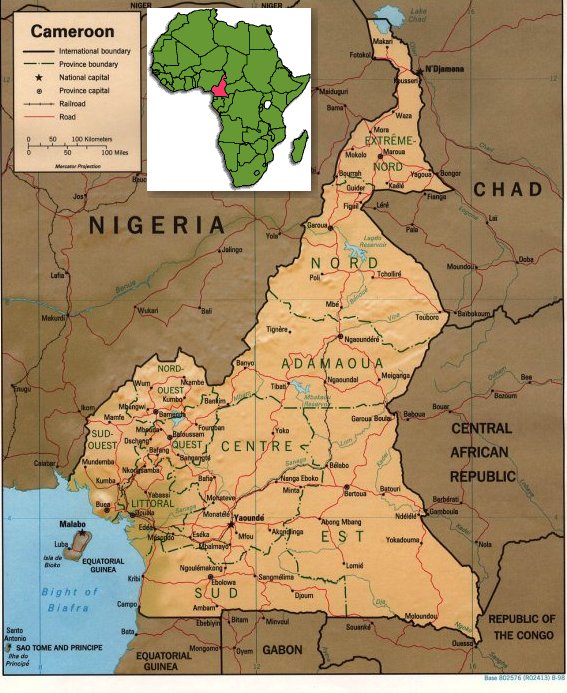 I really thought Cameroon was going to be easy.  There are nearly 200,000 Cameroonian immigrants and refugees in the United States, and New York would seem like a natural place for a lot of them to settle.  It became clear pretty quickly though that we weren't going to have a whole lot of options.  There's apparently a swank bar in the East Village owned by a hip Cameroonian-born DJ, but the menu seemed to have little to no Cameroonian influence.  That was about all I found on the interwebs, so it was time to make some phone calls.
In the spring, when we were searching for Beninese food, and I called around to see if anyone could point me in the right direction, I had done no prior research regarding what dishes I might actually be seeking out.  As a result, I spent most of the conversations I hemming and hawing and making apologies for my total ignorance.  This time was going to be different though. I spent more than two minutes Googling Cameroonian cuisine, and I learned that the national dish is ndolé, a bitter leaf stew, usually cooked with fish or goat meat (bear in mind though that Cameroon has something like 200+ ethnic cuisines).  Armed with this information, I called up the Mission to the U.N., our old stand by when we're completely out of other ideas.   When I asked the nice lady who answered my call if she knew of any place where I could find ndolé, she laughed hysterically, an appropriate response really, as if she were predicting the ridiculousness that would ensue. She asked if I wanted a restaurant, or if I would prefer someone to prepare it for me.  I said I'd be happy with either, so she took my number down and told me that someone would contact me within the next few minutes.  Less than five minutes later, I got a call from a woman who said that she could  prepare ndolé with seafood for us on the following Monday.
Of course, I had done all of this without consulting the other two members of the crew, so I immediately contacted them to make sure that Monday would work.  It wouldn't.  I had to call our ndolé chef back and reschedule for Sunday.  As I was dialing, I also realized that I hadn't discussed price with her at all.  When I asked her how much I should expect to pay, she wisely turned the question back on me. "Um. I dunno. 50 dollars?" was my (I thought) reasonable offer for bitter-leaf stew for three.  She brilliantly countered by telling me that she really couldn't do it for less than $250, maybe even $300, citing the expense of the seafood.  I was clearly outmatched at this point.  Not only was I struggling to fully understand her broad African French, but who the hell else did I know who could cook me Cameroonian food? Besides, what was she planning to put in this? Lobster? Oysters? Sea scallops? I meekly replied that I was poor and there was no way I could pay more than $90, which I still thought was outrageous, but which looked pretty good compared to $300.  She tried to bump me up to $100, but I held firm, a moral victory at best, but I'll take it.  I said that she could substitute the seafood with goat or beef if she needed to, but she wouldn't hear of it.  "Since this is your first time, I want it to be good. You can have it for 90."  It's rare to come across such a wellspring of generosity.
So I got thoroughly outhaggled. Big deal. We found Cameroon.  We just had to make it to the Bronx on Sunday evening, pick up the food, get it home and enjoy.  I had told her that we would pick it up at 7 PM, so the Nomad and I left Kensington, Brooklyn at 6.  The traffic wasn't too bad, and we managed find the place with out much trouble.  Our chef met us at the front door with a puzzled look and a question. "There are only two of you?"  I immediately understood why she was confused.  The idea that she might have been expecting us to eat in her home had crossed my mind briefly earlier that day, but I had brushed it off because it had never been explicitly discussed, and I thought that I had been clear in telling her that we would come to pick it up.  The Nomad had even mentioned the possibility of this kind of misunderstanding on our drive, but I confidently dismissed it.  I'm sure there's some proverb about assumptions you all could pull out right now.  Go ahead. It's fine.  Anyway, I apologized profusely and explained to our host that our friend was in Brooklyn and we had to take the food back to him.  She was clearly disappointed and said that she didn't have any containers.  The Nomad and I then set out to find some.
We drove for about a mile and tried a Walgreen's, which of course had sold out of all it's Tupperware.  Everyplace else that might have sold containers appeared to be closed.  Finally, the Nomad had the ingenious idea of going into a take-out joint and asking if we could give them a couple of bucks for some containers.  We pulled into a Jamaican take-out place and offered the guy at the counter two bucks for five foam containers, a generous offer by any measure.  He gave us a cockeyed look and asked us what we needed them for.  We explained that someone had cooked for us and we needed to get the food home. His logical follow up was, "Who cooked for you? White people cooked for you?"  No, not white people, African people.  "Oh, African people? I'll give you five containers for five dollars."  When I asked how much they paid for the containers, he asked the owner, who said 250 for around $10.  Clearly, I hadn't learned my lesson from the week before.  I somehow assumed that they would consider a 1000% return on a foam container to be reasonable and not try to squeeze me.  In the end, they fucked with us good-naturedly for a few more minutes then gave us the containers for three bucks.
We headed back to pick up our food.  When we got there, a house that had previously seemed to be bustling with activity, seemed empty.  The windows were dark and no one was answering the door.  I called our would-be host's number and it went to voicemail.  I kept trying until she finally answered, clearly irritated, and told me that the door was unlocked.  We followed her into her modest apartment and tried to make the best of what to me was a decidedly awkward situation.  We tried some small talk as she ladled the stew into the containers.  For the most part, she didn't offer more than curt replies, and even admonished me for not telling her beforehand that we weren't staying.  The Nomad thought that she was just disappointed that she couldn't serve the dish the way she had planned.  I'm not so sure. I the more I thought about it, the more I was left with the impression that she was barely tolerating us.
As she filled the containers, she explained that she wasn't able to prepare the ndolé with seafood because she had just returned from D.C. that afternoon and hadn't had time to prepare it. She had used cheap beef instead.  The $90 beef and bitter leaf stew was to be served with boiled cassava and fried onions swimming in vegetable oil.  In the end, we left the Bronx with enough of this stuff to feed three people for a week.  We finally got it back to Brooklyn at around 9:30.  The Nomad and Noquar seemed to enjoy theirs, but I couldn't finish mine.  It turns out that my repulsion had nothing to do with the stew itself.  Although I didn't know it at the time, I had been afflicted with a weird taste disturbance caused by eating too many pine nuts the night before.  It made everything I ate for the next week taste almost unbearably bitter.  Seriously, look it up. It's awful.  Still, I can't help but associate that bitterness with that ndolé. How poetic.